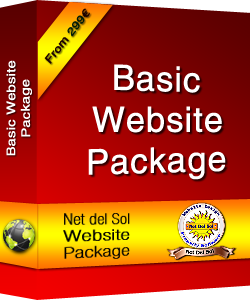 Website Design - Basic Package . . .
4 Pages Full-functioning Website.
1 Flash Home Page + 1 Contact Us Page + 2 Business Details Pages.
Choose one of our ready-made templates.
Market Price average is 600 €
We offer big discount only for a limited period.
Our price is ONLY 349 € for the whole website package of 4 Pages.
With the following general features
Contact Form with Captcha to prevent Spam.
Logo Design is included in the package.
Direct Links to major Social Networks as Facebook, LinkedIn and Twitter.
8-10 High quality Images presented as slideshow viewing your business details.
QR Code (Quick-response) which is optically machine-readable label that is attached to website and records information of Your Domain Name URL.
Flexibility, allowing your website to be extended with as many pages as you need in the future.
Live Google Map of your office or business location.
Multilingual (Optional) is available in more than 10 languages. The website is built to adapt Multilanguage versions.
Back-end control panel (Optional) when needed to control database-driven websites.