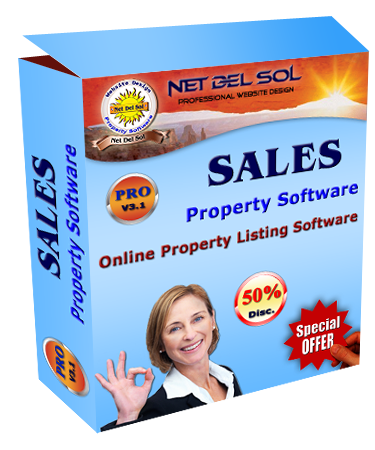 Property Sales Software - Net del Sol . . .
OUR DEAR CLIENT,
As a Real Estate Owner, let us introduce to you our Net del Sol WEBSITE PROPERTY SOFTWARE SOLUTION, as a recent and up-to-date, Website Property Database Program. The program is actually composed of THREE Interactive Programs linked together to serve a powerful and a professional Website Property Database Solution in addition to a stand-alone Property Management Software.
Resale Property Software.
Rentals "Holiday/Long-term" Property Software.
Property Management Software.
Added to them a powerful Property Mortgage Calculator Program which is useful in Real Estate everyday work and a Currency Converter Software Program that serves converting both sales and rental prices between the Euro and most currencies used in the market as English Pound and American Dollar.
I. Main Property Sales Listing Features
Only One Payment with no monthly fees or hidden charges.
Easy-to-use Attractive Interface.
Add, Modify and Delete Property Records.
Upload High Resolution Property Photos to Website up to 20 photos per property.
Automatic Serial Numbering of the Properties.
High Security with Multi-User Authentication.
Scheduled Database Backup Function.
II. Main Property Search Features
Easy-to-use Attractive Interface with dual languages search.
Advanced Search Criteria, giving your clients website visitors the ability to determine town, region, property type, no. of bedrooms, no. of bathrooms, and price having a from price to price search range.
Sorting of Results by different means according to price (higher first or lower first), no. of bedrooms, no. of bathrooms, property type, or region.
Search for a Property by ID.
Option to Send Immediate Enquiry about any property in the search result.
Get Started - Order Property Sales Software for Your Real Estate Business Now !