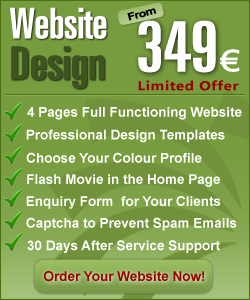 Website Design Packages - From 349€ . . .
Tired of complicated offers to build your business website?
Fed up of the high prices that you have to pay for building a quality website?
We have the solution: Build your own website starting from 349€ where you can get a basic 4 pages website package professionally designed for your business.
Website Features
4 Pages Fully-functioning Website.
Professional Design Templates to choose from.
Choose your colour profile that matches your company logo and banners.
Flash movie in home page with up to 10 high resolution images fading in and out.
Flash Buttons on top menu or side panel.
Online Enquiry Form for your clients providing their contact details and requests directly to your email or smartphone email.
Captcha Security Code provided with the Enquiry Form to Prevent Spam Emails.
30 Days after-sale Free Service Support.
When you start your new business, your budget is the main consideration when you take any decision. So you are searching for a competitive website design quote relative to the market – but also you need to ensure that you get high quality professional website that attracts your future clients and support your products & services presentation over the Internet.
Get Started - Order Your Website Design for 349€ Now !
---